AI Functions: 

Human Detection

Shell Material: 

Plastic

Color Night Vision: 

YES

Operating Temperature: 

-10°-60°

IP Rating: 

Other

App name: 

Other

Rechargeable Battery: 

NONE

Scene: 

Indoor and Outdoor

Movement Range(Tilt): 

Other

Movement Range(Pan): 

0°-360°

Digital Zoom: 

4X

Optical Zoom: 

4X

Megapixels: 

2MP

TF Card: 

64G TF Card

Power Supply: 

Normal

Storage: 

128G

Installation: 

Ceiling

Color: 

White

is_customized: 

No

Audio Output: 

Two Way Audio

Minimum Illumination(Lux): 

2MP

Viewing Angle : 

360°

Video Compression Format: 

H.264

IR Distance(m): 

15M

Power Supply(V): 

12v

Alarm Action: 

telefon Alarm

Power Consumption(W): 

5w

Supported Mobile Systems: 

Android,IOS

Sensor Brand: 

SONY

Special Features: 

Waterproof / Weatherproof

Sensor: 

CMOS

Model Number: 

E27 Blub Camera

Supported Operating Systems: 

No

Lens (mm): 

3.6mm

Connectivity: 

IP/Network Wireless

High Definition: 

1080P(Full-HD)

Style: 

Mini Camera

Brand Name: 

WOPAIDA

Origin: 

Mainland China

Certification: 

CE

Smart home platform: 

Other
Features:
1.Support 2.4G&5G WIFI.
2.Support Auto Tracking and Alarm Tone Function.
3.Support wireless WIFI connection.
4.Support Two-Way Audio Talk Speak Real Time.
5.Support Pan 355 degrees / Tilt 90 degrees.
6.Support TF Card Max 128GB Memory Card.
7.Support humanoid intelligent alert double light.
8.Support Preset Position/Alert Voice and Alarm Bell/Cruise function.
9.Remote View via the YIIOT on Smartphone.
10.4x digital zoom.
11.Support TF card storage, + cloud storage.
12.10-15M (IR LED) Day and Night Vision.
Specifications:
1.Type : IP camera.
2.High Definition : 1080P HD.
3.Lens (mm) : 3.6mm.
4.Colour White.
5.Sensor : CMOS.
6.Megapixels : 2MP.
7.Alarm Action: Phone Alarm.
8.Video Compression Format: H.264.
9.Power supply: E27.
10.Minimum Illumination (Lux) : 0.1.
11.Connectivity: IP/Network Wireless.
12.TF Card : 128G TF Card (Not included).
13.Viewing Angle: 355°(Level)/90°(Vertical).
14.Network cable protocol : Wi-Fi/802.11/b/g.
15.Night mode: infrared night vision.
16.Supported Mobile Systems: Android/ios.
17.Power supply: E27 110-240V.
18.Power waste:<5W.
19.Size: 150*65mm.
20.Weight: 290g.
21.IP 65( Not suitable for putting directly into the water ).This is judged based on the outdoor rainfall. If the rain is sufficient for a long time, we recommend that you add a waterproof cover, it is best to ensure that the rain cover is fully enclosed.
22."Black and white Cam"=1Pcs black camera+1Pcs white camera (Not TF Card)
1/2/4Pcs Package Included:
1/2/4 * Camera
1/2/4 * manual
1/2/4 * bracket
1/2/4 * screw package
1/2/4Pcs Add 32GB Package Included:
1/2/4 * Camera
1/2/4 * manual
1/2/4 * bracket
1/2/4 * screw package
1/2/4 * 32GB Memory Card
1/2/4Pcs Add 64GB Package Included:
1/2/4 * Camera
1/2/4 * manual
1/2/4 * bracket
1/2/4 * screw package
1/2/4 * 64GB Memory Card
Filming Angle
Support Pan 355 degrees / Tilt 90 degrees,Mobile phone can always view all-round corners,Let suspicious people have nowhere to hide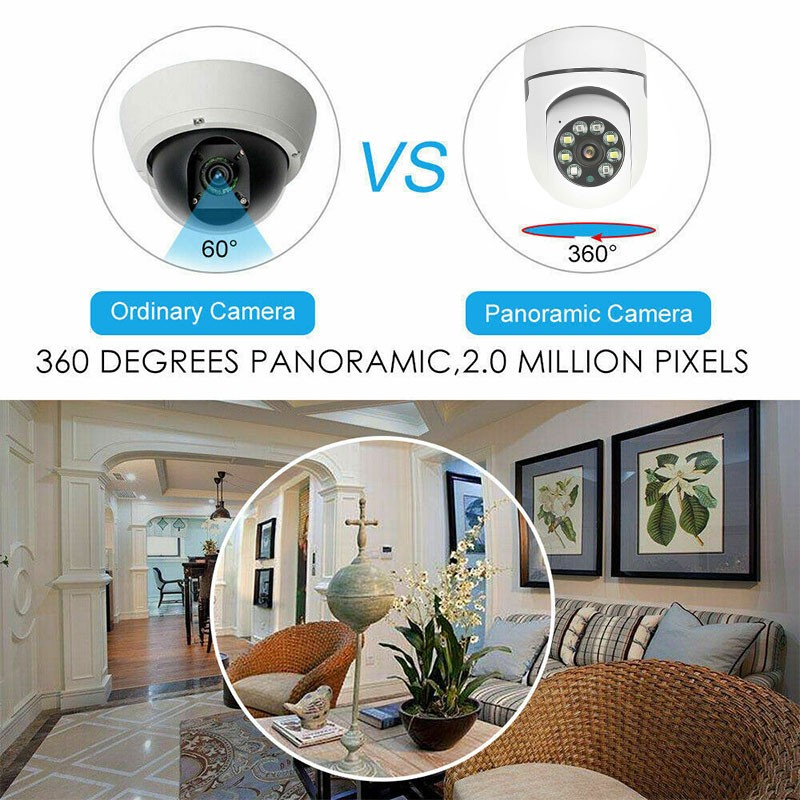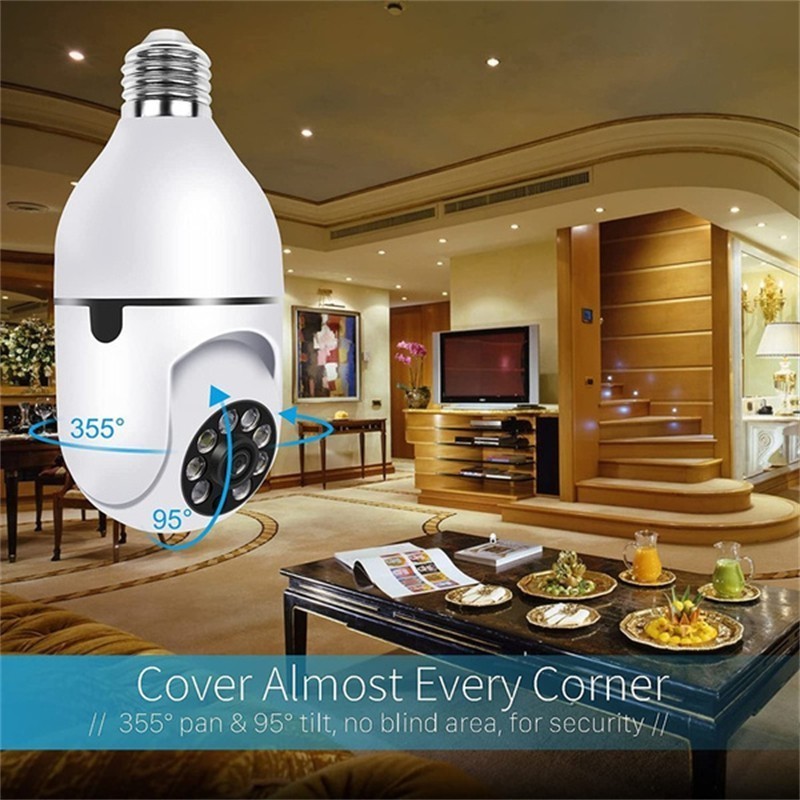 Shooting Resolution
Actual full HD 1080P, compared to 720P, the definition is relatively high.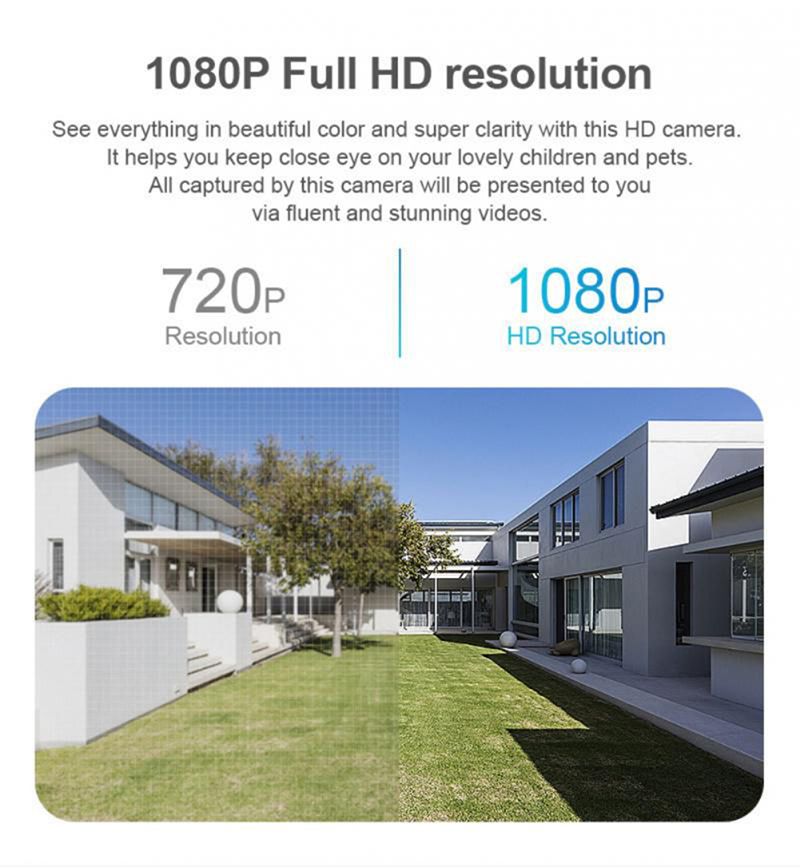 Smart Dual Light Source
Full color day and night, no longer worry about insufficient light at night.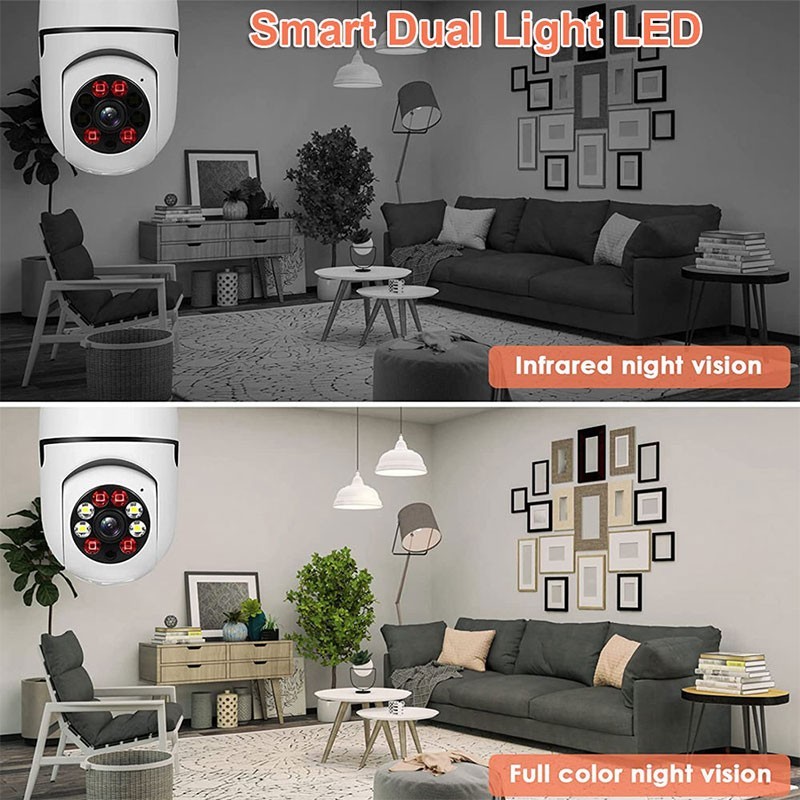 Motion Detection
Motion detection of suspicious objects, mobile phone APP automatic push alarm, camera intelligent voice prompt.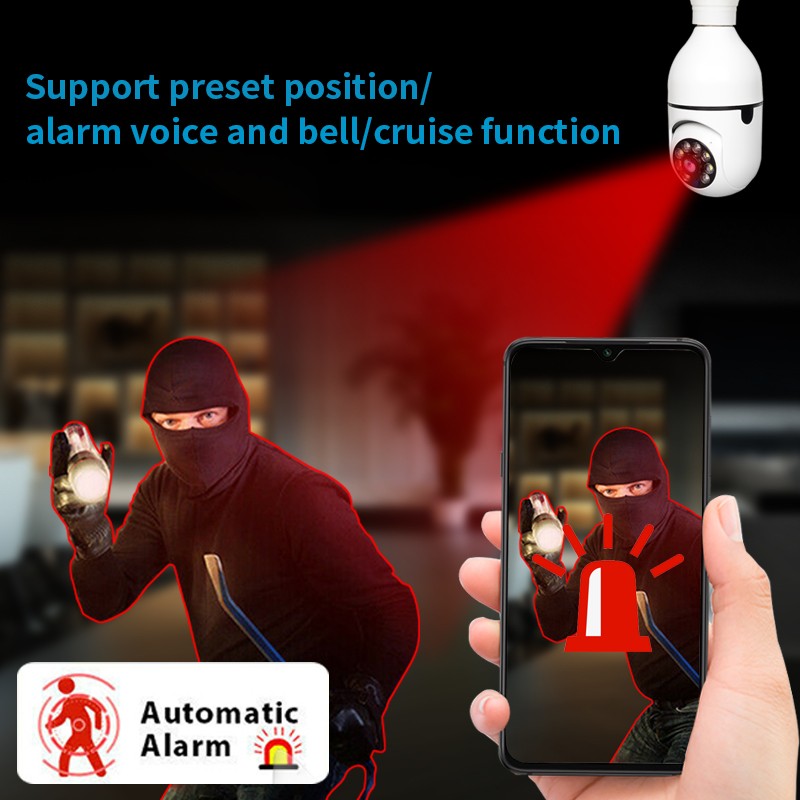 Dual Frequency Voice
Support two-way voice real-time calls, communicate with family members as smoothly as face-to-face, communicate remotely anytime and anywhere, and easily realize intercom.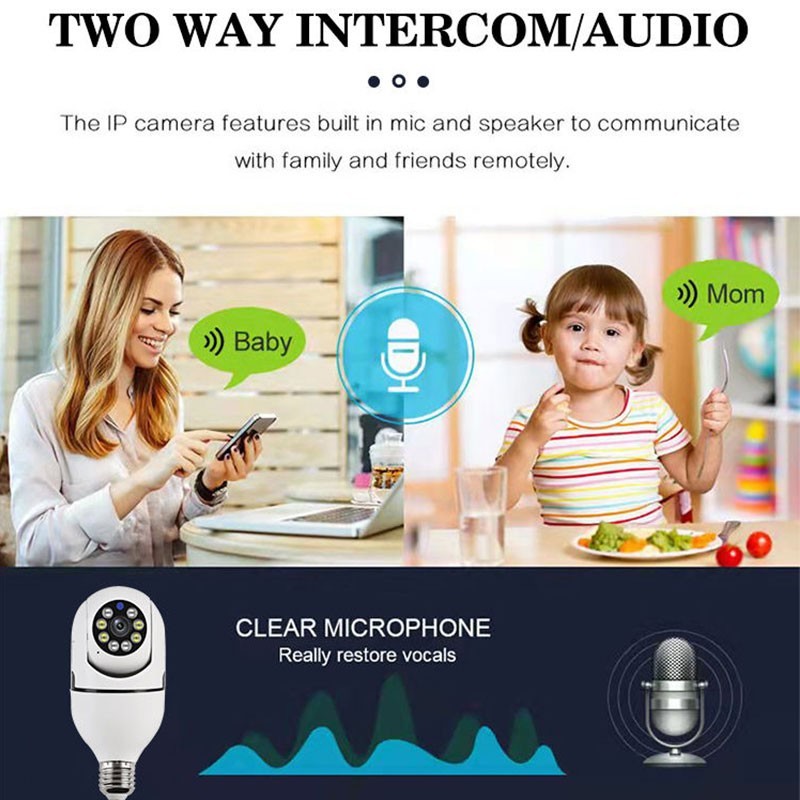 Easy to install
A variety of installation methods, the lamp head can be replaced and installed, and the socket can be installed upside down.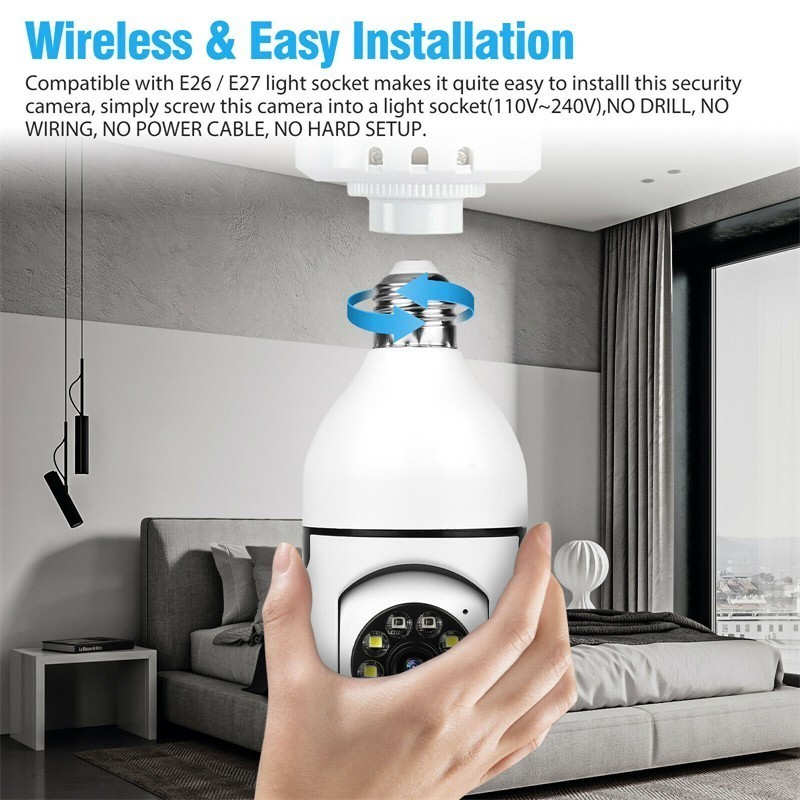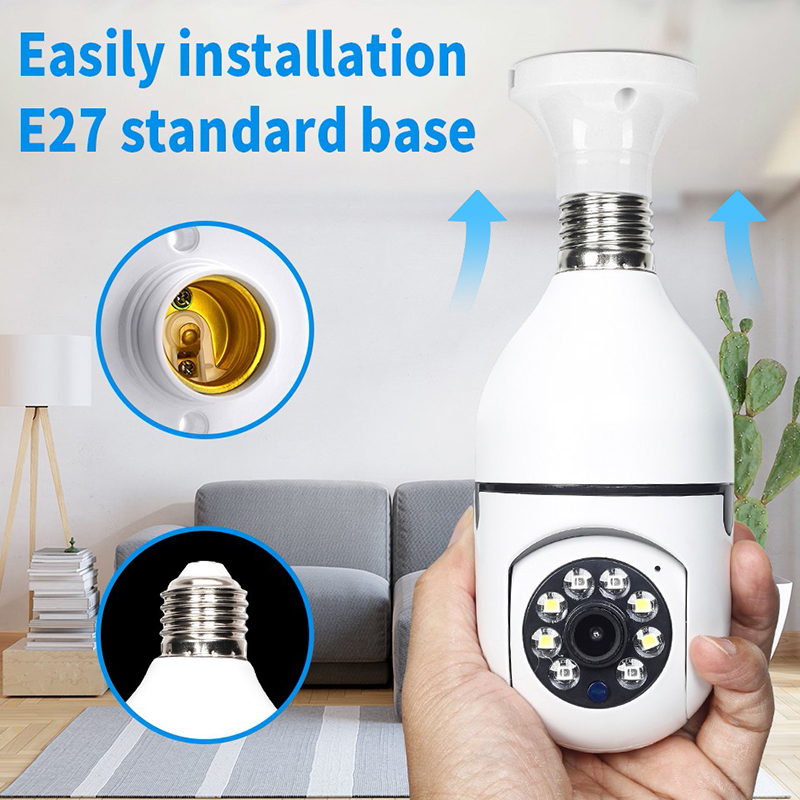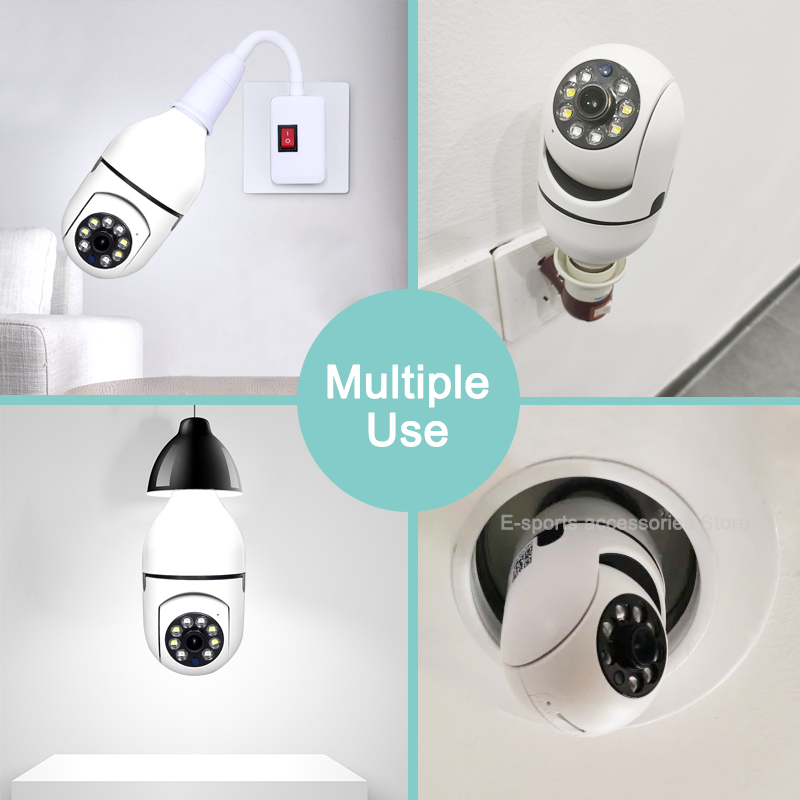 Product Detail Presentation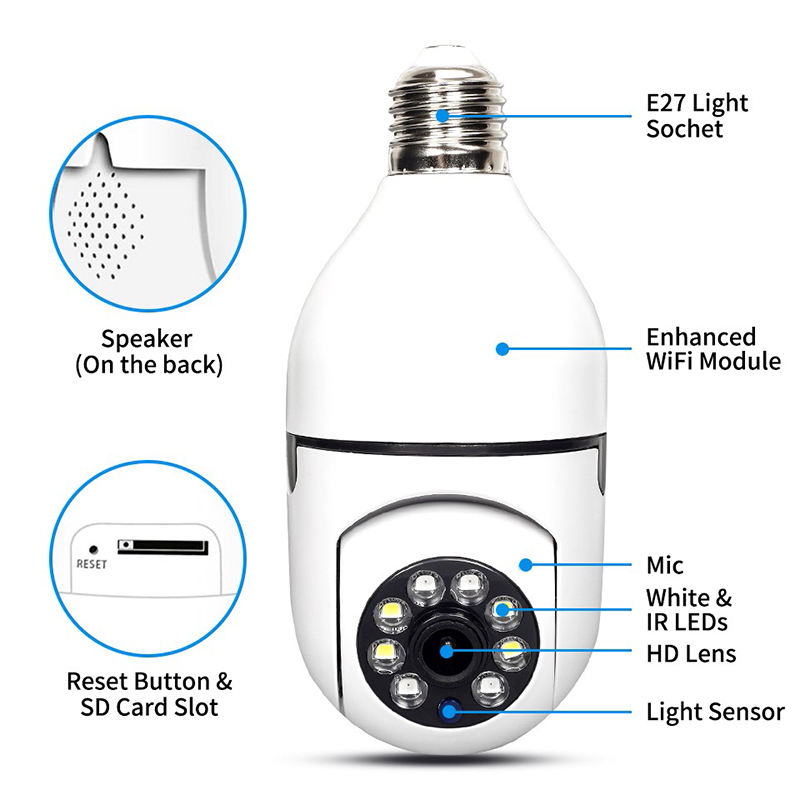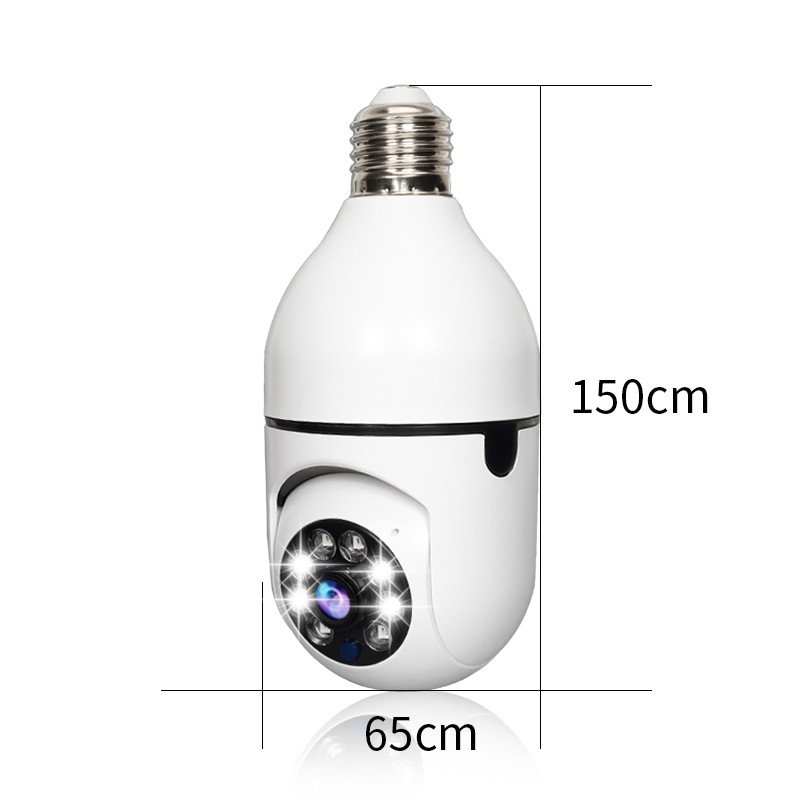 Packaging Diagram
If you have any requirements on packaging, you can propose to customer service. We try our best to provide buyers with good packaging and improve their shopping experience.