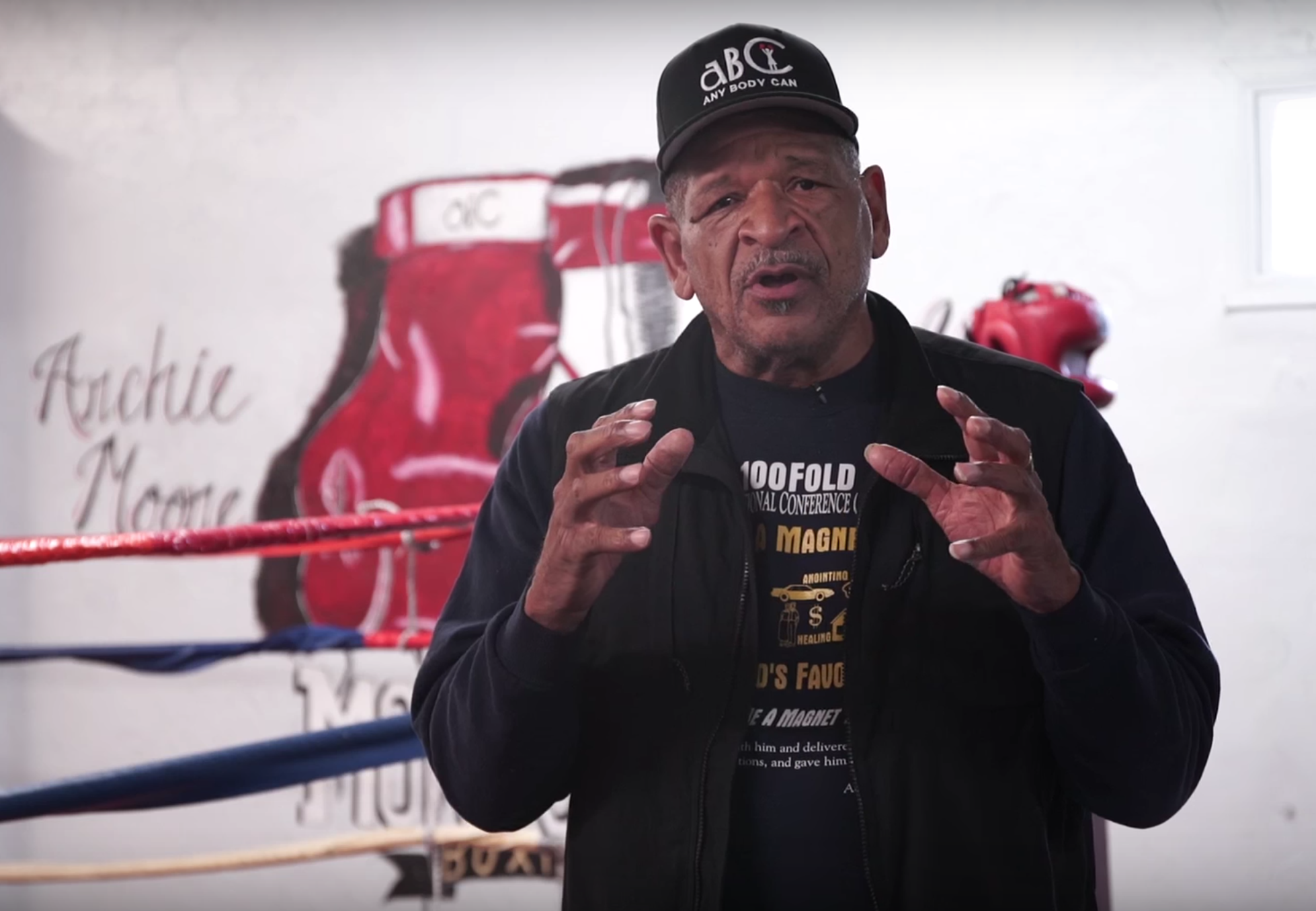 Billy Moore, President
Mr. Moore has been a highly touted member of the boxing community for over thirty years. He has worked with and trained the best there is.  Mr. Moore has been the President and CEO of the ABC Youth Foundation for the past thirteen years, since the passing of his father Archie Moore who founded the organization in 1957. Mr. Moore has touched the lives of hundreds of youth and been a large part of many of them becoming successful and productive members of society.  He has been a Boxing Color Analyst and Commentator on numerous boxing broadcasts. He has been an active member of the San Diego community for over thirty years and continues to give back. Mr. Moore has a passion for world missions and has traveled to more that thirty countries.
Bob Copeland, Vice Board Chairman
Bob Copeland is a partner at Sheppard, Mullin, Richter & Hampton, LLP. He has been a practicing attorney in San Diego for 45 years. His practice focuses on counseling the owners and managers of businesses which range from start-up businesses to established private and public U.S. and offshore firms. He has substantial expertise in merger and acquisition transactions. Bob is Co-Chair of the Scripps Clinic and Scripps Green Hospital Advisory Board, the President and member of the Board of Directors of the Thomas C. Ackerman Foundation, on the Board of the San Diego Yacht Club Sailing Foundation and on the Board of the Any Body Can Foundation. He holds an AB from Occidental College and a JD from the University of Southern California.
Bob Murad, Board Chairman
Dr Murad has been a mentor physician at Scripps Clinic Medical Group for 25 years. He received his undergraduate education at Cornell University, his medical education at New York University School of Medicine and his training in Internal Medicine at the University of California San Diego School of Medicine. He is the co- founder of Sotera Wireless He has received Scripps Clinic's Ruth Black Employee Achjevement award, San Diego's Best Doctor Award, and has been named one of America's Top Physicians since 2005. He has served on the boards of Scripps Clinic Medical Group, Triage Wireless, and North Coast Aquatics.
Amy Murad, Director of Education
Amy Murad has been a teacher in the San Diego Unified School District since 1986. She has taught in various grades and is currently the school librarian at Toler Elementary School. Her education includes a BA from Wagner College in NY, a teaching credential from SDSU, and a Master's degree in educational technology from National University. In 2009 she was honored as the Teacher of the Year at her school site and has also received the PTA Honorary Service Award, the Super Service Recognition Award from SDUSD and has been honored as a school UNICEF Ambassador. She has been the coordinator of 11schoolwide science fairs as well as several community literacy nights at Toler. Her volunteer efforts at ABC include creating the summer "Bridging the Gap" program, building the learning center library, and maintaining relationships with area schools. Amy is active in various educational, church and community organizations.
David Fitzgibbons
David G. Fitzgibbons has a BS in Business Administration- Accounting from San Diego State University (Class of 1979).  He is currently the Vice President of US Operations for the Wawanesa General Insurance Company in San Diego.  He was the past President of the San Diego Chapter of Chartered Property Casualty Society as well as an Ironman Triathlete.   David has a son, Matt, and wife Maren of 27 years who he resides with in Carlsbad, CA.
Stephanie Ferran, Secretary
Jim Laslavic, Honorary
Jim Laslavic has been a part of the San Diego Sports scene since 1978; first as a linebacker for the San Diego Chargers, and for the last 27 years as a sports anchor and reporter. Since 1989 "Laz" has been NBC San Diego's Sports Director, with sports reports Sunday through Thursday at 6 and 11 p.m. He also hosts Valley View Casino Sportswrap following NBC News San Diego at 11p.m. every Sunday. In the fall he hosts Football Night in San Diego following Sunday Night Football on NBC. Laz has covered Superbowls, World Series, and the Olympics. Sports has been a large part of his life since childhood being highly recognized in high school and college. He is also an Emmy recipient. Jim lives in Coronado with his wife and they have two children.
Florence Moore, Honorary
Florence has over 20 years experience in working with sales, and applying a strong expertise in data-driven, long-term strategic planning, and working with young people.  Prior to joining ABC Youth Foundation, Florence was a Casualty Insurance agent for 23 years, Cosmetologist for 10 years and Medical Secretary for 6 years. She sold insurance products that protect individuals and businesses from financial loss from vehicle accidents, fire, hurricanes, etc. Florence has experience in preparing reports and quotes, help policy holders file claims, discuss new options for your clients and actively seek out new clients. In addition to this, Florence is the Vice President of Eleanor's Place Boutique.  This is a non-profit organization that has sober living facilities for women in transition from prison and abusive relationships.  It provides counseling (women and children), free clothing for court appearance and job interviews and assistance in getting back in the work force and life. Florence is an active member and the church clerk for Bethel Baptist Church of San Diego, a proud parent, grandparent, and wife of the President of ABC Youth Foundation, Billy Moore. Florence is an international traveler whose mission is to serve God's people around the world.
Mike Wynne
Mike Wynne is President of BMW BUILDERS, a general contracting firm in La Jolla.  BMW BUILDERS primarily does residential remodeling and additions.  Mike has volunteered for the Big Brother Big Sister Organization for the past 25 years.
John Reid
John Reid served 29 years as executive director of a major college football game, eight years at the Fiesta Bowl and 21 at the Holiday Bowl. He retired in 2001.  During his Fiesta Bowl years he was involved in signing the game's first major television contract and saw team payouts double. At the Holiday Bowl team payouts grew from less than $300,00 to over #1.9 million per team. He also served as the founding executive director of the San Diego Task Force which successfully bid to host the 1988 Super Bowl.  Prior to his bowl game career Reid served as director of public relations for the Houston Rockets of the NBA and as sports information director for the University of Washington. He holds a bachelor of arts degree in journalism from the University of Washington.  Reid was married to his late wife Ruth for 44 years. He has two daughters, a son and three granddaughters. He currently serves on the Board of Directors of the San Diego Chapter of the ALS Association.
LeMar Slater, Honorary
LeMar Slater is a testament to the effectiveness of ABC on young minds. Born in San Diego, LeMar benefited not only from ABC Boxing as taught by Instructor Billy Moore, but also the Ole Mongoose himself, World Champion of the Ring, and ABC creator, Archie Moore. Receiving this powerful training as a youth, LeMar was able to navigate schools and neighborhoods where gangs and drug activity were the norms and graduated as a class valedictorian. LeMar studied in the shadows of Dr. Martin Luther King Jr., at historic Morehouse College, a school with a rich tradition of producing men who are leaders with integrity. As an honors graduate of Mathematics and an instructor, LeMar has returned to his home in San Diego to continue to the legacy of ABC. LeMar Slater is currently enrolled in graduate studies at San Diego State University. He has taught courses at La Jolla Country Day School, UCSD High School AVID Summer Sessions, and the Southern Sudanese Community Center. He is an active member of Bethel Baptist Church and is proud to have as a younger brother, Mr. Leroy Slater, as both a fellow ABC and Morehouse Graduate.
Harry Stylli, Honorary
Dr. Harry Stylli has a track record of nearly two decades, demonstrating entrepreneurial leadership in the biotechnology and pharmaceutical industries, and has broad experience in successfully translating innovative technology into commercial opportunities and in company turnarounds. Harry currently invests and serves as Chairman of both Ascendant MDx and Cell MDx Inc. As a board member and CRO he successfully led the restructuring and recapitalization of MIPI. As CEO & President he successfully led the transformation of SQNM from a failing tools company in to the leading non-invasive prenatal diagnostics company.  He transitioned Xencor from a failing tools company to a successful bio therapeutics entity. Previously, Dr. Stylli was founding President and CEO of CovX Pharmaceuticals an antibody based bio therapeutic company that was acquired by Pfizer. Dr. Stylli co-founded Aurora Biosciences in 1995, and in 2001 led Aurora's acquisition by Vertex Pharmaceuticals. Following the merger, Dr. Stylli continued on with Vertex as president of Aurora Biosciences and Panvera. From 1987 to 1995, Dr. Stylli held various positions with GlaxoSmithKline. Dr. Stylli has served on numerous BODs he currently advises Nanosyn and is a BOD member of Ascendant MDx, Cell MDx and the ABC foundation a charity helping at risk children in San Diego.
Sara Vaz
Sara is President and CEO of the Clifford Animal Foundation which focuses on providing low-cost medical care for the pets of low-income families in our community.  Previously, Sara was the Program Manager for the Gary and Mary West Foundation focusing her efforts on their Youth Employment and Service Animal portfolios.  Sara has an MA in International Relations from Alliant International University and has spent many years serving the refugee community in San Diego.  She has served as Vice-Chair of the San Diego Refugee Forum and Board Chair of Somali Family Services.  In addition to her work in the nonprofit community, Sara also owned and operated Link Staffing Services for a number of years.
Dan Woodard
Dan is an "estate planning and trust litigation attorney in practice for 25 years" experienced Mediator having mediated more than 500 matters involving personal injury, more than 300 matters involving trusts and estate disputes, more than 200 matters involving commercial and contract disputes, throughout Southern California. Dan has also served on the boards of non-profit Community Development organizations, urban land trusts, private schools, private foundations, community resource networks since 1988.
Leo Morales
Leo Morales has a degree in Communications and Marketing from San Diego State University and is a board member on the SDSU Alumni Board of Advisors. He is currently the Marketing Manager at Wawanesa General Insurance Company in San Diego. Prior to his tenure at Wawanesa, Leo was Vice President of Investor Relations at Imperial Capital Bancorp in La Jolla, CA.  He is an active member of the Insurance Marketing and Communications Association (IMCA) and has a diploma from the American Bankers Association School of Bank Marketing and Management (2006). Leo is married, has a daughter and resides in the Carmel Valley area of San Diego, CA.